Last week, Vikki Ross asked me to do one of her Copy Safaris.
A stroll around London judging advertising in the wild, then posting on Twitter.
One of the good things is that you don't pick and choose, you comment on everything; the good, the bad and the fugly.
One of the benefits of having to give an instant take, often on the move, is you can't overthink it, you react more like the rest of the people on the street.
Who don't work in advertising.
(Well, as much as you can after working three decades in advertising.)
Anyway, here's my feed from last Monday…
COPY SAFARI, SHOREDITCH, 06/03/23.

'Mmm…very green…looks like they're trying really hard to be cool, so therefore not.'
'The glare on this isn't ruining your enjoyment.
They've buried the lede haven't they?
£4.99 a month is cheaper than usual (possibly because you have damned ads interrupting).
Or do something insightful for sports fans to get below the surface of sport?
Too many pictures and words.'

'I'm supposed to think – 'finally, a company that's concerned about me and my future!' Never heard of them, why would I invest with them?
Throw me a bone.'
'New York City'. Yes, New York City – what of it?
Read the small print and you find they have 7 flights a day.
'7 flights a day' next to the Statue of Liberty is better.
But you're selling NYC 7x a day – it should be glorious, inspiring.'

'Noticeable. Looks a bit cheap for Louboutin.
Presume they're doing trainers now?
Shark related trainers?
That's all I've got.'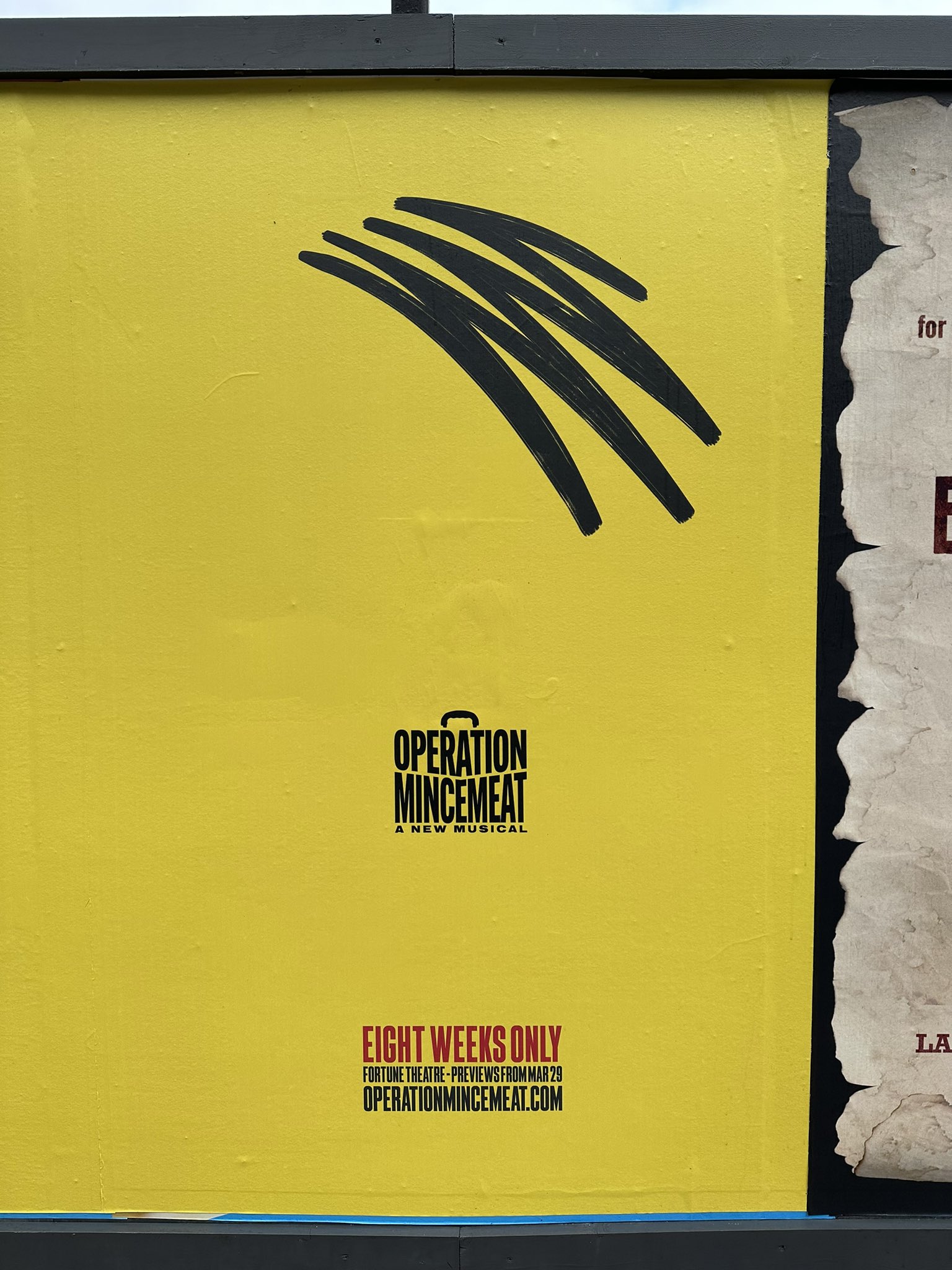 'Intriguing, super simple.
Better than the usual over-cluttered theatre posters.'

'More green stuff chopped up into little pieces.
Why not push all of your gun powder into one big pile and make a big explosion – not lots of little ones?'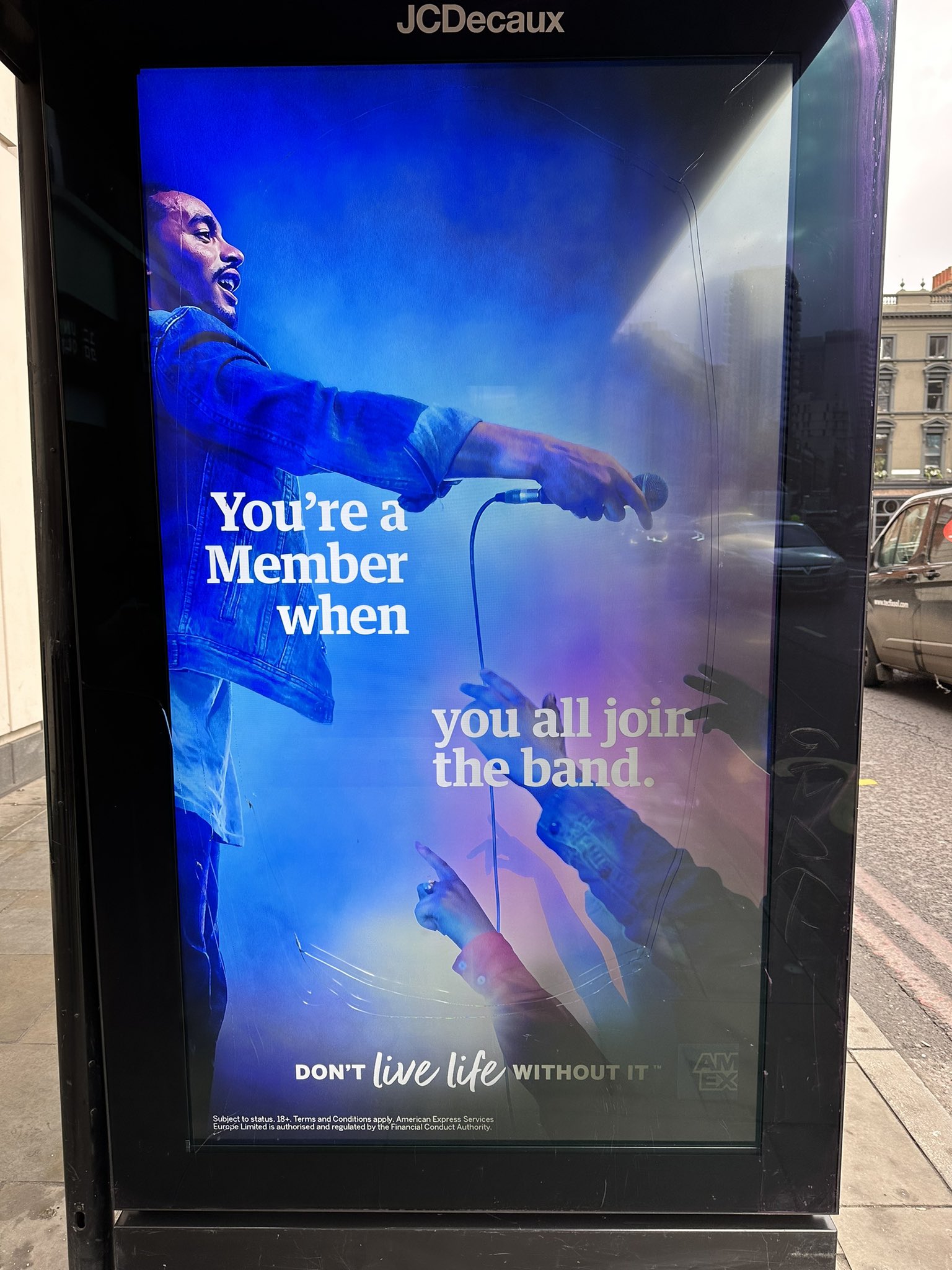 'Don't live life without it' – Why?
Got any reasons?
'You're a member when you join the band' – is this a metaphor?
Are they doing some music related activity (that they don't reference here?)
I have some credit cards Amex, why should I trade one for one of yours?'

'Turning Domestos upside down to kill hidden germs seems like an interesting thing to do a poster on.
Showing the product upside down in a toilet bowl doesn't seem to be adding to the words.
Or intriguing or attracting any passers-by?'

'Nike have produced some of my favourite ever ads.
This isn't one of them.
I've no idea what this is about.
Presume it's a joke?'

'There's a great story here about the philosophy and integrity of Birkbeck for the 200 years.
'Freedom' doesn't capture it or do it justice.
Read on and you'll get more.
But what percentage will? 10%?
Maybe they should've focussed more on Marcus Garvey than Mark Robinson?'

'Requires a lot of attention for a poster.
Lots of small type and little details.
Doesn't feel like must-see tv.'

'Hyaluronic acid.'
Excellent! One of my favourite acids.'

'We can see it's porridge.
We can see the honey.
We know porridge is a breakfast.
Got any words that could tempt me to get some?'

'Shouldn't 'now permanent' be the brief?
(Not the small print.)
Don't get 'The clue's on the name'?
The chilli?
It's called the 'McSpicy', we get it already.'
I know it's easy being a critic.
But boy; what a depressing bunch of posters.
I'm not criticising the culprits, just the ads.
There are all manner of reasons why they ended up like this – a dictatorial client, a nervous account team, a bad agency/client relationship, unambitious creatives or all of the above.
Who knows? But what I do know is that the exact same briefs were once fought over by creatives.
Because posters were so public (and big).
And today, with all the other channels slicing their audience into smaller and smaller segments, outdoor is the only media left that everyone sees.
Young, old, rich, poor, Cavaliers, Roundheads, lovers and haters of Marmite, basically, everyone.
Well, everyone who leaves their home.
To be fair, these folks are hard to talk to.
For a start, they're on the move, so are unlikely to engage with anything more than a single image and a handful of words.
Because they're on the move, not online, you need to do something they'll remember when they stop.
It sounds so simple, but posters are hard to do.
It's why Creative Directors would tell budding creatives working a new multi-media campaign 'Start with posters, if it works there it'll work anywhere'.
So why that bunch were so poor?

a) They're complicated.
Lots of little bits and pieces everywhere, most require you to stop, engage and read beyond the headline.
Research says public interest in advertising is declining not increasing.
b) They're joyless.
As if the people who created them didn't found them a chore to do.
The best advertising feels effortless, obvious, like it would've been fun to be in the room.
c) They're quiet.
Really quiet, take the Lacoste ad; why divide a 20ft by 10ft space into 12 little pieces you can't see from a distance?
There's a rule of thumb I used to find helpful: fill 90% of the poster with a big picture or big words.
To be honest, it was hard to say anything positive about them.
Was it always like that?
Difficult to say, name any year and the majority of posters out there would've been crap.
But they'd have been simpler crap.
Terrible five word headline you could read from the other end of the street.
Big cheesy pictures that could see from the other end of the street.
Take this Campaign article from a 1998.

Admittedly, they're not a random selection, like Shoreditch our bunch, they've been chosen.
But all 39 are simpler than the ones that confronted us in East London.
Like them or not; they are posters.
Proof of that is that they still work the size of postage stamps in the article.
Try reducing the Shoreditch posters down to that size – they'll vanish.
Why have we drifted towards this more complicated output?
Does asking creatives to use a single image or no more than a handful of words now seem unnecessarily cruel today?
Maybe?
But I'm with that old duffer David Ogilvy, who said "Give me the freedom of a tight brief."
Constraints fuel creativity.
N.b. Rather than show a bunch of award winning old posters, I thought it might be interesting to show a bunch of non-award winning old posters.
If these didn't get in it makes you wonder what did?
Basildon Bond Paper.



Lucozade.

Asda.

Levis.

The Observer.

Golden Virginia.

Legal & General.
Milk.

Vauxhall.

Fruit Gums.

Truman Bitter.
Heinz Beans.

Persil.

Penguin Biscuits.

Shredded Wheat.

Crown FM.

Warburton's Bread.

Ecover.

British Airways.

Morrisons.

White Horse.